"Precisioner did a great job in workshop line management." said the Shenzhen Administration of Work Safety in Longhua District.
To better implement the personal responsibility of safe production, Precisioner has formulated systematic rules and regulations about safe production.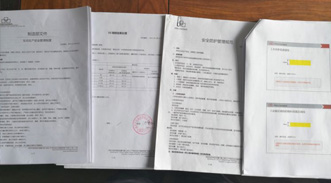 Being one of the most important things in 5S methodology, Precisioner rearranged the workshop line management while upgrading the company facilities. The Shenzhen Administration of Work Safety in Longhua District specially visited our factory for an exclusive interview, and wrote an article to show their approval of Precisioner's Safety Production management.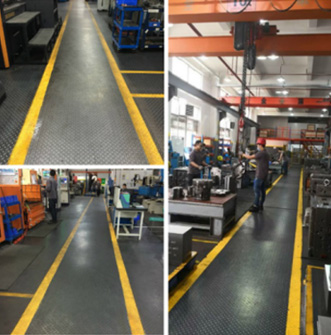 Besides setting the warning line of the emergency passage and fire equipment in the relevant standards, we add and fill the yellow warning lines in some high-risk operation areas (furnace rail cars, etc.) to increase visual impact and avoid risks.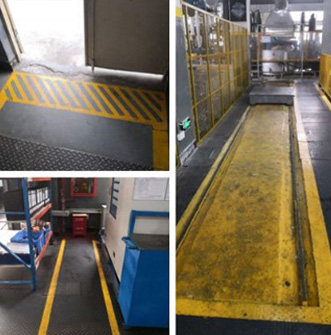 The apparent yellow warning lines on the wall and the load-bearing column are marked to alert employees the risks of high-altitude operations.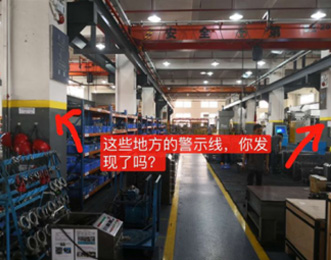 Tools and protective equipment are well placed in the shelf, which ensure the cleanliness of the workshop and improve the work efficiency. By the way, we have posted safety warning notices in all necessary places.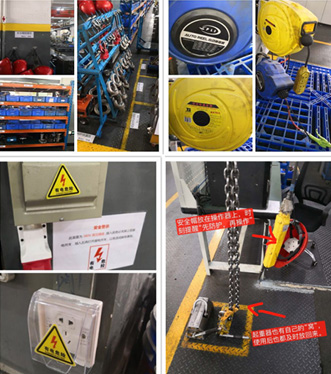 The computer in the production workshop is all equipped with a dedicated computer cabinet, which can not only play a role of fixing and protection, but also accommodate the cumbersome lines of the computer.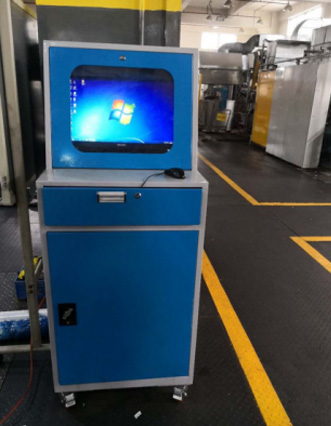 In the manual work area around the mechanical equipment, a protective net is equipped to prevent mechanical damage caused by the equipment. And there are markings on the pallets, place the functional description of the area, and the affiliation sign, as well.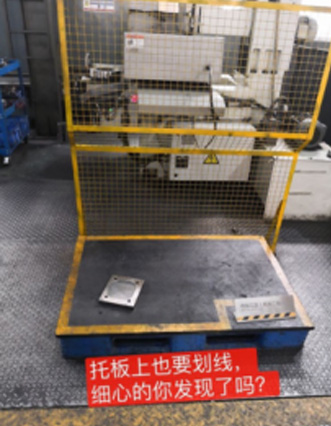 About the equipment with risk of mechanical injury, we have added fences around the perimeter. And the protective fences and high-risk locations of machinery and equipment area, we used yellow line to increase visual impact.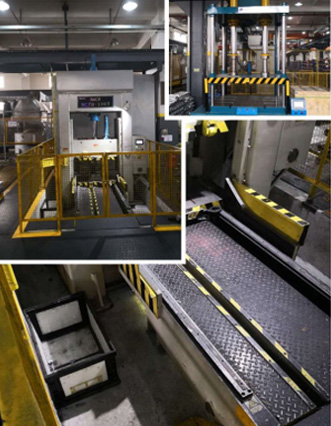 In the operation area of machinery and equipment, we have added local lighting equipment, which has increased the comfort of employees during operation and reduced the risk of accidents.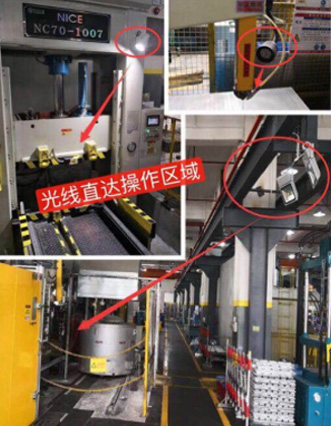 We also took a series of safety measures in melting area to ensure employees' safety.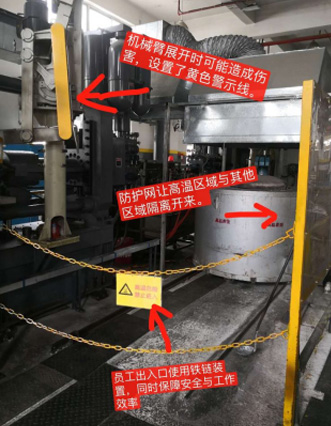 With the extremely high residual temperatures of newly released castings, tools, etc., we have equipped with a foldable protective net in this area, which can be adjusted according to the practical situation.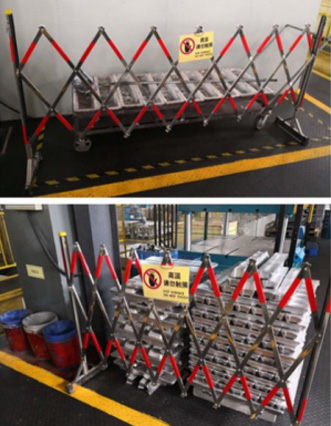 In the waste iron scrap area, the oil barrels are placed on the leak-proof trays with yellow warning signs. The purpose is to prevent the oil in the barrels from tipping over or spilling out and causing environmental pollution. This anti-secondary leakage provides more safety.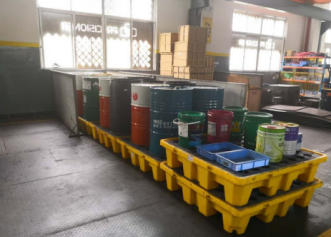 Our safety officer said that the linemanagement is to better regulate the management of the workshop. From the placement of items to the details of operations, we are committed to creating a safe environment with regulated standards, allowing employees to constantly hold safety awareness from the details of the work environment, and naturally comply with it, so as to develop a good habit of safe operation through safe visualization and effectively avoid potential safety hazards.