On October 28, 2022, Precisioner was granted the title of 2021 Innovative MSMEs Top 100 in Longhua District, according to the public announcement of Shenzhen Longhua District government.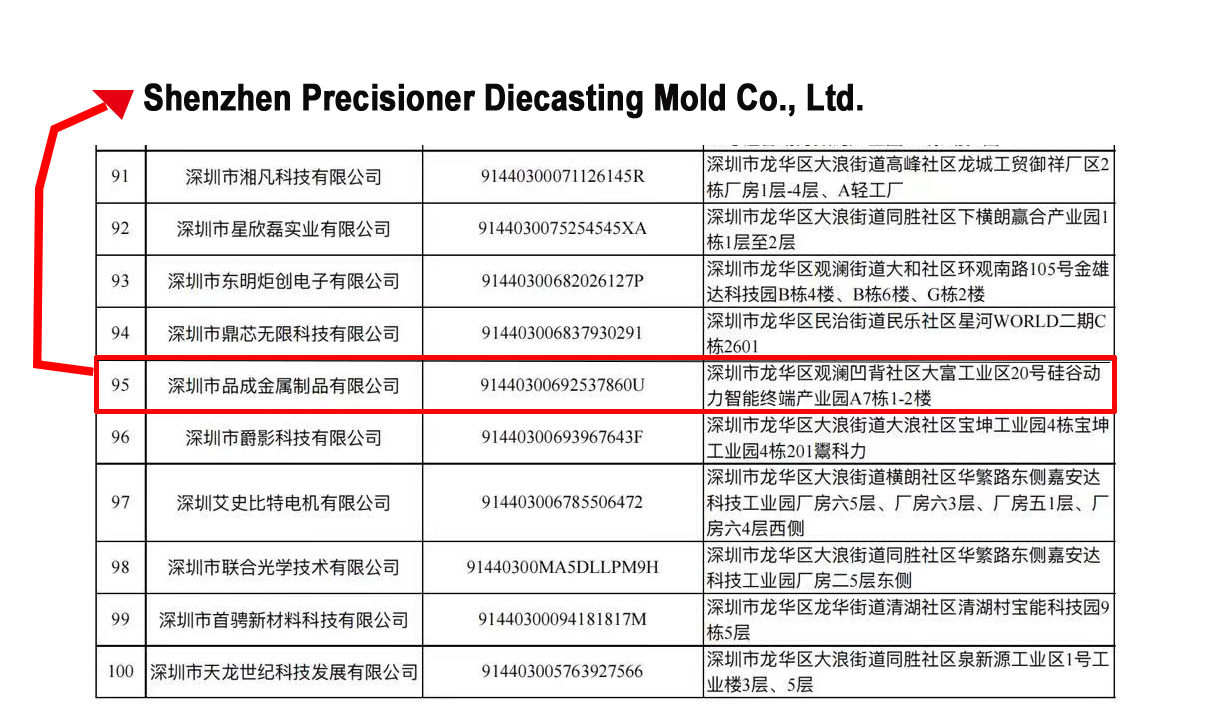 List of 2021 Innovative MSMEs Top 100 in Longhua District
It is reported that the government of Longhua District carries out the accreditation of Innovative MSMEs Top 100, in order to encourage and guide the enterprises in Longhua District to become stronger and better, focus on supporting a number of competitive Innovative MSMEs and promote the transformation of economic development mode. The identified Innovative MSMEs Top 100 in Longhua District will be listed as important targets for the allocation of government resources and provision of quality services by all departments in the district, and the title will be valid for one year.
Established in July 2009, Precisioner is a professional diecasting mold manufacturer, who is dedicated to providing integrated solution on die casting molds for aluminum, magnesium, and zinc alloy die castings. With 2 plants and a CNAS certified laboratory, Precisioner has obtained more than 20 patent certificates, including invention patents. Precisoner attaches importance to technological innovation, actively participate in industry cutting-edge technology research and development. In recent years, Precisioner has independently researched and developed the HPDC mold for semi-solid shock absorption production and the HPDC mold of impeller with self-rotating demoulding structure designed, which has accumulated valuable technical experience and solutions for the industry.
In the past two years, in order to embrace new energy and automotive integration, Precisioner has purchased a number of large processing and assembly equipment to build a 6600T mold production line, and has produced die-casting dies for many customers in new E-mobility industry.